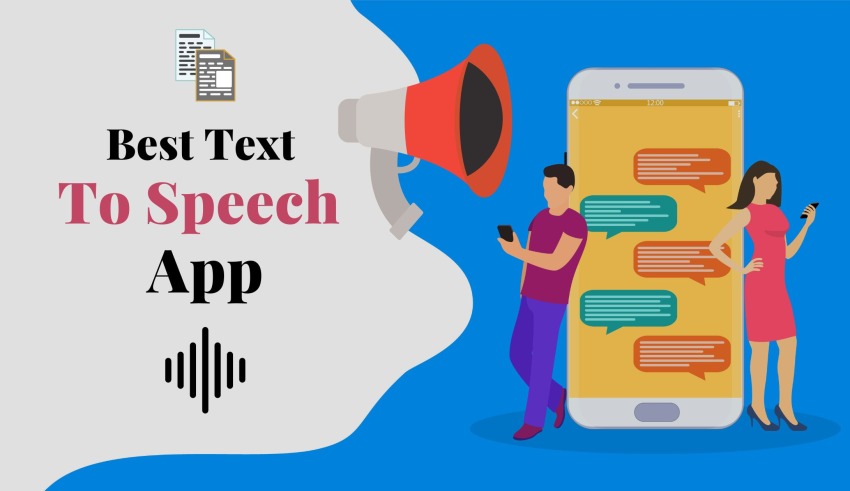 Technology has always sought to astound people with its astonishing powers. Man's brain has a part to play in this wonder because he contributed to these innovations. As a result, regular advancements are made to expand upon the computer system's current technology. We have always employed voiceover artists for one reason or another. This might be done for narrating stories, making commercials, and other purposes. Even if that is attractive and trustworthy at carrying out our jobs, many people seem to think it is a waste of money, time, and effort. This is one of the factors that led to the development of the text-to-speech invention. A sort of auxiliary technology that helps with reading digital text aloud is the best text-to-speech app or TTS. It also goes by the term of "read-aloud technology."
The advantages of this technology cannot be overstated given that it is now widely used worldwide on a variety of devices, including PCs and cell phones from various manufacturers. Text-to-speech has been made possible and simple as technology advances thanks to software for PCs (Windows and Mac), applications for smartphones (Android, iPhone, iPad), as well as web platforms. Today, content producers are grateful for this breakthrough because it has eliminated the idea that they will have to perform voiceovers themselves (which could be difficult for many).
Here is the List of Best Text-to-Speech Apps:
Download It From Playstore | Appstore
One of the best free text-to-speech software programs is Natural Reader, which has a user-friendly design and great results. There are also desktop and web versions available. Numerous user choices and modifications are available. First, add documents to the library so that they can be read aloud from there. This is a smart way to manage different files due to the range of supported file types, which includes eBook formats. Another option is OCR, which lets you load a photo or text scan and hear it read aloud.
The floating toolbar is the second available option. With the controls on the toolfbar, you can activate and modify text-to-speech while in this mode and highlight text in any application. This implies that using the feature in your word processor, web browser, and various other tools is relatively simple. Additionally, a browser add-on makes it simpler to translate web material into speech. The TTS tool is offered without charge, However, there are three additional upgrades with more sophisticated features for experts and power users.
---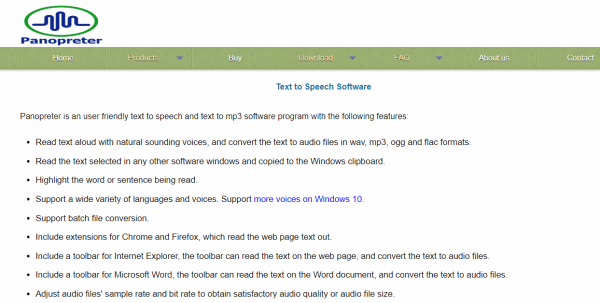 If you want something straightforward, organised, uncomplicated, and hassle-free, Panopreter Basic is the greatest free text-to-speech app. It will accept plain text and rich text files, web pages, and Microsoft Word documents as input and will export the sound in WAV and MP3 formats.
The default settings are adequate for short operations, but if you spend some time in Panopreter Basic's Settings menu, you can also alter the language, the location of saved audio files, and the interface colors. One great feature you won't find in other free text-to-speech programmes is the software's ability to play music once it has done reading.
An upgraded version of Panopreter is accessible if you require something more sophisticated. This edition includes various added features, such as toolbars for Internet Explorer and Word, the ability to highlight the part of the text that is now being read, and extra voices.
---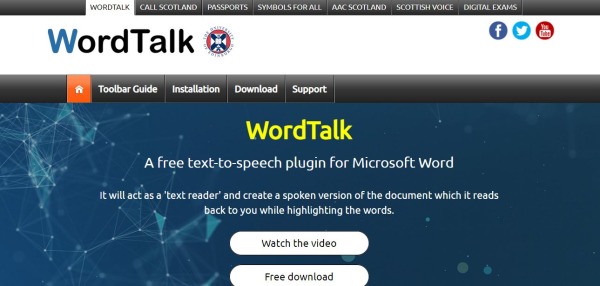 WordTalk is a toolbar add-on for Word that adds customizable text-to-speech functionality. The University of Edinburgh was behind its creation. You can access it from the toolbar or ribbon in all versions of Word, depending on which one you're using. The toolbar itself is not very attractive and looks like it was made by a little child. Additionally, not all of the buttons' functions are quite clear, but thankfully a help file is available to assist.
While WordTalk does support SAPI 4 and SAPI 5 voices, both of which can be customized, there is no getting around the reality that it is relatively simple. It's really convenient to merely read out loud specific words, phrases, or paragraphs. Additionally, you have the choice of saving narrations, and a variety of keyboard shortcuts are available for quick and simple access to frequently used features.
---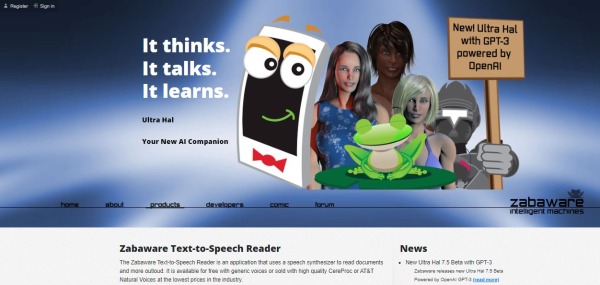 Zabaware best Text-to-Speech app Reader contains more features than you might expect given its straightforward appearance. The programme allows you to open a variety of file formats directly, or you can just copy and paste text.
Alternatively, Zabaware best Text-to-Speech app Reader can read aloud any text you copy to the clipboard and dialogue boxes that appear as long as the programme is running and the necessary option is enabled. If you wish to translate words from webpages into speech, this is helpful. This programme, which is currently among the best free options available, can convert text files to WAV format.
Unfortunately, there is a small variety of voices available, and unless you delve deeply into the options to tinker with pronunciations, the only variables you can alter are volume and pace. Although there are more voices available, the price appears fairly exorbitant and prevents it from ranking higher on our list.
---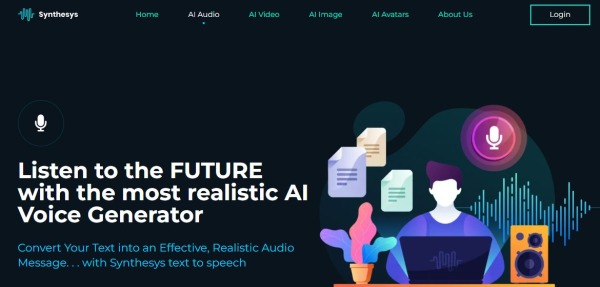 Popular text-to-speech software Synthesys creates expert audio and video content for marketing, business, and educational uses. There are two versions of the cloud-based program Synthesys Studio. Three clicks are all it takes to convert text to voice using the AI text-to-speech software. Users of Synthesys Audio have a variety of voice-over actors to choose from, each with a distinctive voice. If you need to adjust intonations for various use cases, such as audiobooks, podcasts, trailers, radio advertisements, commercials, or storytelling, this is ideal.
Users may also create realistic videos from text using AI text-to-video software, which is another distinctive feature. You can pick a spokesperson (a face) that suits your company's demands, select a voice and tone, add your screenplay, choose a background, and produce the video without the use of a camera, microphone, or outside software.
For the spokesperson role in your AI-generated videos, Synthesys Human Studio offers dozens of AI avatars. You can produce tutorials, podcasts, online courses, explainer videos, training videos, advertisements, and audio instructions. If you want to develop marketing material without the requirement for an internal workforce, this is among the best text-to-speech app programmes.
---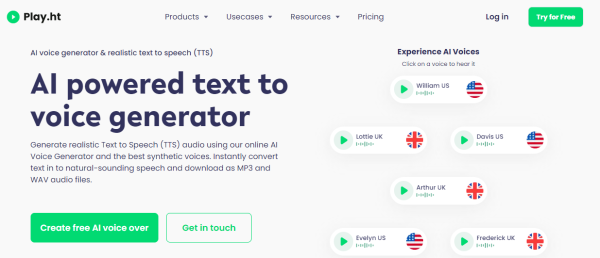 A text-to-speech programme called Play.ht uses over 260 realistic AI voices from Google, Amazon, IBM, and Microsoft to produce MP3 files online. Voice synthesis and SSML controls are available on the generator. The text can have its pitch, volume, tempo, and pauses changed. Create an RSS feed for the audio file you converted.
Additionally, Play.ht provides a listen button that can be embedded on blogs to broaden accessibility and attract more users. Both businesses and bloggers can benefit greatly from it. To utilize it, select a yearly or monthly subscription-based price plan. The first two months of the annual plan are free. Appsumo has highlighted Play.ht.
---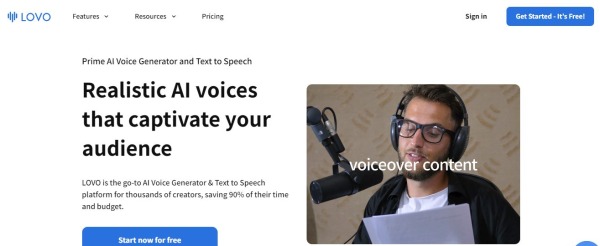 Lovo is text-to-speech software for voiceovers, e-learning platforms, audiobooks, and voice advertisements. Pick from a selection of 33 languages and more than 150 voices. We liked Lovo because the voices had an emotional undertone in addition to seeming natural.
Custom voices are a wonderful feature of Lovo, a premium only found in the best text-to-speech app. The target voice can have a unique vocal skin created for it in just 10 minutes using Lovo's cloning technique. Voices will take on a more unique quality and sound more like you in this way.
In addition to an Enterprise plan, Lovo offers four pricing tiers. With unlimited text-to-voice conversions but download restrictions, the free plan is suitable for personal usage. In addition, there are free, beginning, personal, freelancer, and enterprise programmes.
---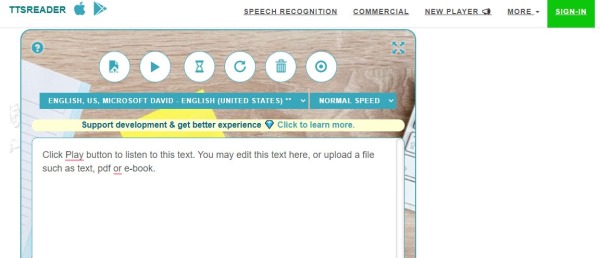 Do you wish someone would read aloud your PDFs, ebooks, and other text to you in a voice that sounds like a person sitting next to you? Here is the answer: You may use TTSReader for FREE; all you have to do is type or paste any text into the box and press the play button. It allows for playback in a wide range of languages, accents, and playing speeds.
Additionally, if you wish to automatically save your position and text to the cloud, select the box. Firefox, Safari, and Chrome are just a few of the browsers it supports. You can start playing by just dragging or copying your text into the box; no downloads, logins, or passwords are required. It is fantastic for children, background material listening, proofreading, and more.
You will hear voices from both sexes in many languages and accents. Enjoy producing polished speech in the voice and language of your choice. Both your text and the location at which you paused are remembered. You can resume listening to it after closing the browser and pick up where you left off. The ability to use it on a mobile device makes reading articles possible.
To save time and money by using it anywhere you want while offline, download the Android Text Reader App. It highlights presently being read texts and pulls words from PDFs to read them aloud. To listen to websites like news, wikis, blogs, etc., you can also get the best text-to-speech chrome extension for FREE.
---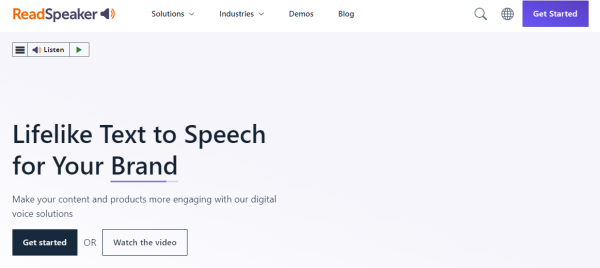 With the aid of voice solutions, ReadSpeaker enables you to sell your items. By clicking "listen," you can hear the text after choosing your favourite language and voice, typing your message, or pasting any other text. To make the content accessible to the audience, you can integrate your speech to your apps and website. Text-to-speech can let you create audio files with voices that seem natural and give IVRs, robots, public address systems, and other devices a voice.
It allows businesses, organisations, and brands to provide a high-quality experience at a low cost. Customers that struggle with literacy, learning problems, or poor vision can use it. Access to digital content is always easy for everyone. Numerous options are offered by ReadSpeaker to rapidly add customised and convincing speech interaction in any setting. It provides offline and online TTS solutions for media, embedded devices, IoT, robotics, telephony, transport systems, papers, websites, and more.
---
Balabolka
The best free text-to-speech app from Balabolka can be used in a few different ways. Text can be entered into the application by copying and pasting it or by opening one of the many file types it supports (including DOC, PDF, and HTML). For output, you can choose between using SAPI 4 with eight different voices, SAPI 5 with two voices, or the Microsoft Speech Platform. Regardless matter the path you take, you can customise the voice by adjusting the speech, pitch, and volume of replay.
This free text-to-speech programme can save narrations as audio files in a variety of formats, such as MP3 and WAV, in addition to reading words aloud. There are great tools available to assist you to adjust the pronunciation of phrases to your preference, and for lengthy texts, you can set bookmarks to make it simple to jump back to a certain point. The greatest free text-to-speech programme available is Balabolka, which has all these capabilities to make life easier when reading text on a screen is not an option.
Conclusion
Any written text can be converted into an audio format using a method called text-to-speech. It has been utilised for many years across numerous sectors. The user can have the text on his or her phone automatically read out thanks to the application, which is available for iOS and Android smartphones. Both language proficiency and reading comprehension are enhanced by it.
This app can also be used by hearing-impaired people to listen to their preferred content. The fact that it doesn't require any installation or setup is its best feature. You just need to install it, launch it, and begin listening! You may listen to podcasts or audiobooks on your smartphone or tablet using a variety of apps that are available on the Google Play Store.
This article has covered the best text-to-speech app, programmes, and extensions. The knowledge in this post should have been useful to you. From the URL below, you can download any of the aforementioned programmes. At the end of this post, I've included some helpful advice for you.